I photograph boats and stages all over the province, but in Battle Harbour there are no wires, poles or vehicles to get in the way. The old houses, as well as those that have been restored, make great backgrounds.
If you are interested in seeing more photos of Boats and Stages in Battle Harbour, feel free to view my Facebook Album which has more photos than this Gallery. Just click the image below.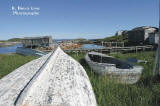 If you require photos of Battle Harbour, please feel free to contact me.
Click on the thumbnail below to see a larger version of the image. Each thumbnail has been identified with a reference number. Please use that reference number when making inquiries.