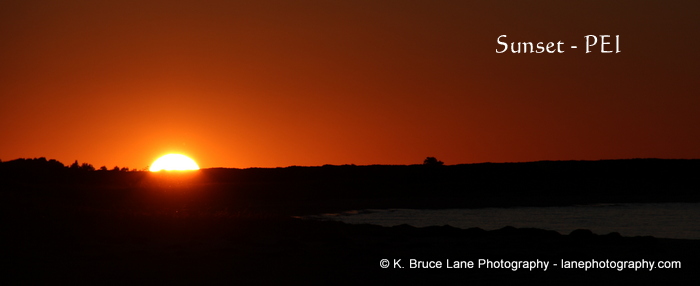 All photos in this gallery are for sale as
stock photographs and photographic enlargements.
They can also be purchased as slide shows
and/or wallpapers/screensavers.
---
Sunset
Prince Edward Island
The Sunsets in this gallery were photographed as you approach Wood Islands on the ferry to Prince Edward Island and near the town of Morrell. If you require photos of these Sunsets, feel free to contact me.
Sunset - September 7, 2014

Sunset 1

Sunset

Sunset 3

Sunset 4

Sunset 5

Sunset 6

Sunset 7

Sunset 8

Sunset 9

Sunset 10

Sunset 11

Sunset 12
Moon - September 7, 2014

Moon 13

Moon 14

Moon 15

Moon 16

Moon 17

Moon 18
BEACHES | BEACH ABSTRACTS | BIRDS | CHARLOTTETOWN | LIGHTHOUSES | SUNSET